Sales Rep Productivity With and Without SDR Support
You need to increase new sales. Would investing in a new sales rep achieve your revenue goals?  How much faster would you hit those revenue goals if you supported your new sales rep productivity with a dedicated sales development rep?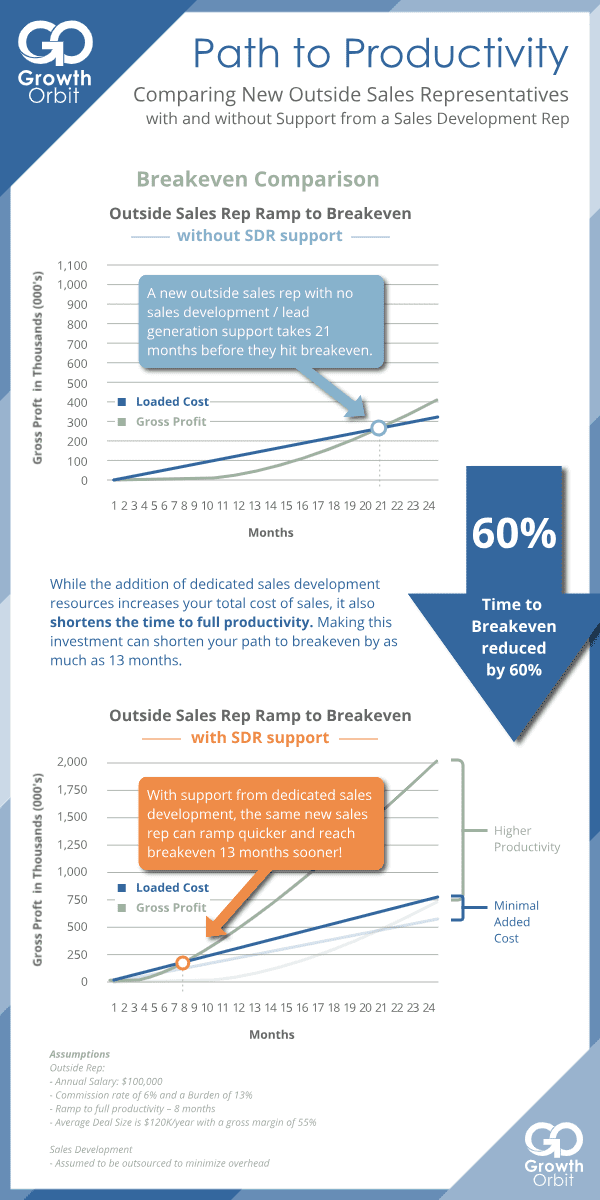 Path to Sales Rep Productivity
This infographic shows a comparison between the performance of a new sales rep who has the support a sales development rep to generate sales leads with a new sales rep who has to perform their own lead generation efforts.
A new outside sales rep with no sales development / lead generation support takes 21 months before they hit breakeven. With support from dedicated sales development, the same new sales rep can ramp quicker and reach breakeven 13 months sooner! That means the time it takes to breakeven on your investment in a new rep is reduced by 60%.
While the addition of dedicated sales development resources increases your total cost of sales, it also shortens the time to full sales rep productivity. Making this investment can shorten your path to breakeven, allow you to develop your next additional sales rep in-house, keep your sales rep focused on the later stages in the buying decision process, and foster teamwork to improve overall morale.
Assumptions
New Sales Rep:
Annual Salary: $100,000
Commission rate of 6% and a Burden of 13%
Ramp to full productivity – 8 months
Average Deal Size is $120K/year with a gross margin of 55%
Sales Development Rep:
Assumed to be outsourced to minimize overhead
If you would like some help in determining your breakeven point with and without the support of a sales development rep, please contact us. We would be happy to provide our insights and help you determine the bast course of action for your sales organization.