SDR and BDR TALENT ACQUISITION SERVICES
We identify and recruit the best talent so your lead generation program can succeed.
Hunter Bottoms
Director, Talent Acquisitions & Development
"Finding and hiring Sales Development and Business Development reps is a challenging task. Successful SDRs and BDRs require a unique blend of mental toughness, intellectual curiosity, and a desire to learn. But all too often, they are more skilled at selling you on hiring them than they are in doing the work. Success requires experience and a structured approach to identify, test, and recruit those select few that have what it takes to be successful; something we have been doing for years."
Recruiting High-Performance SDRs & BDRs
Identify and Attract Top Talent
Business Development and Sales Development Reps are an integral part of your sales effort. In fact, they are one of the most important given they will initiate engagement with new prospects. Studies have shown that the sales team who helps establish the buyer journey is much more likely to win the business. This is the role of the BDR and SDR.
Hiring takes time and resources, so before you make an offer, you want to be sure you're hiring the best. To do that, you need to make sure you have a proven structured process in place to identify, recruit, and attract the best SDR and BDR candidates.
Growth Orbit has successfully hired hundreds of BDRs as SDRs over the years. Through that time, we have developed a methodology that we now extend to our clients. When you partner with us, you get a team that's actively engaged in the market, utilizes our proven methodologies, continuously assessing talent, and optimizes our targeting to deliver you the best candidates available.
Experienced SDR Recruiting + Structured Process = Results
Business success requires the proper mix of people, process, and technology. An effective recruiting strategy is no different. Predictable recruiting results are achieved through knowledgeable people, a proven framework, and enabling technology. Growth Orbit has developed its formula for sourcing the best SDR and BDR talent through years of experience and a dedication to development of a defined and scalable process.
First, we develop an ideal candidate profile based on your unique needs combined with our proprietary candidate profile capability matrix. Next, we perform a comprehensive market assessment to proactively identify a set of ideal candidate prospects and prepare to engage.
The best candidates are likely gainfully employed and not submitting resumes for your posting. Therefore we utilize our multi-touch, multi-channel engagement methodology to actively engaged your ideal candidates and proactively develop interest in your opportunity.
Once engaged in the process, a candidate must be properly assessed. A comprehensive assessment requires more than an interview or two. Growth Orbit's process includes a mix of structured interviews and psyhcological testing specifically designed to assess the candidate's makeup in reference to top performing sales profiles.
Joining any competitive sports team requires a tryout; sales roles should as well. SDRs and BDRs are expected to perform a very specific kind of work. So, a properly run roleplay exercise is a critical tool for both the hiring company and the candidate to set expectations while testing the candidates existing skills and willingness to learn.
Once an applicant has successfully completed Growth Orbit's process a comprehensive profile of the candidate has been created. This profile, along with test results, roleplay assessment, and a written assessment are all delivered to you to provide a complete picture of the proposed candidate.
A successful recruiting program requires a structured process that is scalable and supported with the necessary technology tools. Growth Orbit's Talent Acquisition Framework establishes a repeatable and scalable process to ensure you hire only the best candidates available.
Why your SDR Talent Acquisition Strategy Matters
The High Cost of Hiring the Wrong Candidate
According to some estimates, a bad sales hire costs between 50-75% of the hire's annual salary. That means a sales rep who makes $50,000 annually costs between $25,000 and $37,500 to replace. However, the real cost may be even more significant. There are many factors to consider beyond the salary a company sunk into a salesperson who hasn't worked out. There's a host of expenses—recruitment costs, lost productivity, lost business, and more. Given these stakes, avoiding bad hires is critical.
To achieve sales development recruiting success, you need a structured hiring process, based on thorough and proven methodologies that doesn't cut corners. Growth Orbit can ensure you get it right the first time and build the successful team you need to achieve success.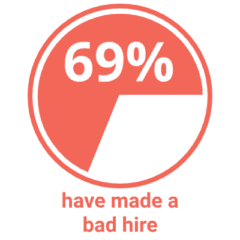 An alarming 69% of employers have made a bad hiring decision based on a flawed interview process with 22% claiming insufficient talent intelligence.

Talent Acquisition Outside the Box
Read about Growth Orbit's Talent Acquisition Success for a Healthcare Technology Provider