LEAD GENERATION BEST PRACTICES AND INSIGHTFUL STATISTICS
Based on our deep knowledge and vast experience in the business, we have put together a collection of insightful statistics and valuable lead generation best practices best practice suggestions
Growth Orbit is successful because we have an established, proven framework for developing lead generation program strategies. We have a formula and our formula works. Our leadership team  has established a winning culture based on our belief in renowned methodologies, such as StoryBrand, SPIN Selling, Predictable Revenue, and others. We actively read, discuss, and adopt tactics to give our SDRs the best possible opportunity to succeed. Listed below are a collection of lead generation stats from studies, surveys, and industry leaders.
Prime Sales Performance Comes from Preparation and Processes
Get Referrals
%
Sure. If They Ask.
84% of B2B decision makers begin their buying process with a referral. Additionally, 91% of customers say they would provide referrals, but only 11% of salespeople ask for one.
Sales Benchmark Index & Dale Carnegie.
Be Prepared
%
If you Fail to Prepare, Prepare to Fail.
B2B decision makers think that sales reps are unprepared.
Be Engaged
%
The Mistake of Indifference.
Almost two-thirds of B2B deals are lost because of indifference, not because of mistakes.
Best Practices: Consider implementing standard processes for how to sell your solutions. First, make sure you have a structure and you practice how your salespeople will prepare before calls or meetings. Regularly hold weekly meeting with open communication. This helps the team share trends provide suggestions to each other. Additionally, you can create an incentive program and hold contests for getting referrals.
Better Data Allows for Better Forecasting
Data is Power
%
Powerful Tools, Poor Data
Nearly all sales teams use a CRM solution, however, salespeople lack the discipline to enter important data citing that doing so takes time away from selling.
Realistic Targets
%
Slightly Off Target
Approximately 4 out of 5 of sales organizations miss forecasts by more than 10%.
Securing the Sale
%
Not a Done Deal
More than half of the deals forecast by sales reps never close.
CSO Insights 2018 Sales Operations Optimization Study
Best Practices: Establish minimum standards for data capture, data hygiene, and adhering to defined processes for using your CRM. Then hold sales reps accountable with a no-nonsense commitment to the adage that if it isn't in the CRM, it didn't happen. With better, more accurate data you can improve your forecasting and provide more realistic targets. Be sure to avoid focusing reports and discussions on deals that are not well defined and do not have the necessary data to evaluate their revenue potential.
Sales Priorities and Persistence Provide the Pay Off
Misalignment from the Start
Most salespeople say closing deals is their top priority. This prioritization leads to misalignment with Marketing's pipeline-filling lead generation initiatives.
HubSpot survey of 3400+ sales and marketing professionals.
Persistence Pays
Nearly all converted leads are reached by the sixth call attempt. Unfortunately, the average salesperson gives up on calling after only 2 attempts to reach a prospect.
Velocify Sales Optimization Study & HubSpot.
Do Whatever Works
%
Multi-touch Approaches Work
Business development reps that use a triple touch approach for lead generation have a 28% higher MQL-to-SQL rate than those who only use phone and email.
HubSpot survey of 3400+ sales and marketing professionals.
Best Practices: Naturally, sales and marketing have different missions, objectives, and targets. While marketing is tasked to attract potential buyers, sales is focused on closing those prospects closer to making a purchase decision. So, getting the two departments to align and work together can be a challenge. First, identify and document the buyer's journey. Next, adjust your sales processes to assist buyers along their journey. In other words, allow the buyers to shape how you sell instead of forcing them into a way you want to sell. Alignment will be easier to accomplish when the entire process is known, and each phase has a corresponding next step, along with department assignments.
Meaningful Messaging Makes You More Relevant
Buyers do their Homework
%
Online Messaging or Off the RADAR
Nearly 90% of B2B buyers conduct independent research online throughout their buying processes.
Google / Millward Brown Digital survey of 3000 B2B researching and 13 months of clickstream data.
Be Relevant and Useful
%
Buyers Demand Relevant Messaging
Frustration mounts when content is not relevant or useful for customers and their situation. Almost 3 out of 4 people make this claim.
MarketingBlender
Say it Again. And, again.
Most potential customers need to hear messaging three to five times before they believe the claims.
Edelman Trust Barometer
Best Practices: All organizations have their own culture. Most also develop their own internal language. Unfortunately, this leads to messaging that is not relevant to a potential buyer doing research to solve a problem. So, to make sure your potential buyers find you, adjust your messaging to highlight their challenges rather than your products/services. Use terminology common to your audience. Lastly, provide the message in multiple forms, such as web copy, emails, short videos, social posts, and other media to provide prospects with several avenues to absorb your message.
Improve Close Rates by Focusing on Legitimate Leads
Poor Performance Far Too Common
Only 60% of sales reps hit their quotas.
CSO Insights. Sales Performance Optimization Study.
Make their Problem your Problem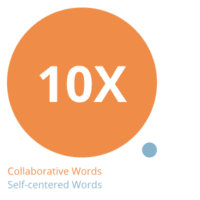 Working Together Works Better
According to Chorus, successful salespeople are 10x more likely to use collaborative words, such as "us," "we," and "our" and avoid words like, "I" and "me." 
Some Prospects Aren't Buyers
%
Lost Sales are Not Really Leads
At least 67% of lost sales are the result of unqualified prospects being taken through the sales process.
SPOTIO, April 2020.
Best Practices: Effective sales reps can be expensive. Recruiting, hiring, training, and ramp up is costly too. It is important to set appropriate goals, provide useful tools, and continue to support your salespeople so they can hit their quotas. One far-too-common issue that can frustrate your sales team is providing them with leads that simply aren't likely to buy. So, to minimize the number of "bad" leads we suggest having high standards when defining what qualifies. With a strict definition you can adhere to a "quality over quantity" mentality. Thus, avoiding wasting time on "going through the motions" in the final stages of your sales process.
Supercharge Your Growth with Sound Sales Strategies
Work Together
%
Pulling the Same Rope
Companies that align sales and marketing processes can become up to 67% better at closing deals.
Teamwork
%
Grow Together
Organizations with sales and marketing alignment accomplish a 20% annual growth rate.
Offer the Solution
%
They Won't Buy if you Don't Ask
Astonishingly, more than 3 out of 5 sales interactions end without the sales rep asking for the sale.