OUTSOURCED B2B LEAD GENERATION
Supercharge your revenue with the qualified leads your sales team deserves
Read more about predictably turning leads into paying customers.
Steve Schilling
"Achieving B2B lead generation success is difficult. There is no magic bullet, or one-size-fits-all strategy. Success requires a unique mix of knowledge, experience, skilled people, and technology. Turning to a professional organization with B2B lead generation as their core competency has never been more important. Growth Orbit provides B2B lead generation outsourcing services that deliver measurable results and allow you to grow with confidence."
Outsourced B2B Lead Generation to Fill Your Sales Pipeline
Ready to Make Your Sales Team More Productive?
Let us do the heavy lifting. We start with a custom lead generation program that works for you and aligns with your sales processes. B2B lead generation outsourcing makes perfect sense for organizations planning to grow. Between experienced B2B sales development reps, the most skilled messaging experts, professional program management, sophisticated data management and analytics, and advanced sales enablement technology, we deliver outsourced B2B lead generation capabilities at scale that allow you to achieve lead generation success. 
Our Lead Generation Success is Your Sales Success 
Growth Orbit has years of experience in driving real results for a wide variety of clients and solution sets, and we're good at what we do. When you partner with us, you get an experienced team, with an established tech stack, that implements proven methodologies in a scalable way. We have the knowhow and skilled resources to continuously analyze program performance, drive desired outcomes, and optimize your lead generation program to maximize success.
Growth Orbit is Your Outsourced B2B Lead Generation Partner
Your business depends on revenue growth and the effectiveness of your ability to generate leads. Predictable results are achieved through a proven framework, skilled resources, enabling technology, and expert execution. Growth Orbit has developed the formula for delivering outsourced B2B lead generation success through hundreds of client engagements.  
Whether you're an early stage, fast-growth startup looking to build your sales and marketing muscle, or a Fortune 1000 company looking to super charge your pipeline, we're your partner in growth.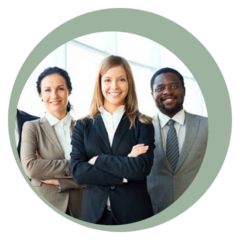 Why Outsource B2B Lead Generation Programs
"Whether you ultimately choose outsourced B2B lead generation,  an in-house team, or a combination of the two, the biggest mistake you can make is overestimating benefits and underestimating costs. Lead generation takes resources, effort, and patience." Generating leads is critical to any organization's success. In fact, a lead generation strategy is central to any sales and marketing organization. Yet the challenge of implementing a successful lead generation program is often greatly underestimated. Success requires much more than writing some compelling content, hiring someone to "make calls", or sending out emails.   
So, why B2B lead generation outsourcing? Lead generation has all the hallmarks of a classic outsourcing opportunity. It requires specialized expertise, unique technology, skilled resources, and effective management oversight. Success is hard to achieve subscale. This is a function that is challenging, resource dependent, and time-consuming to get right, particularly since there's no one-size-fits-all answer. 
Outsourcing lead generation to a skilled and talented team of experts can quickly position your organization for success. No matter the vertical or the size of the company, outsourcing lead generation is a highly effective strategy. It is guaranteed to be effective to accelerate your growth.