B2B LEAD GENERATION OUTSOURCING
Supercharge your revenue with the qualified leads your sales team deserves
Read more about predictably turning leads into paying customers with B2B lead generation outsourcing.
Steve Schilling
"Achieving B2B lead generation success is difficult. There is no magic bullet. There is no one-size-fits-all strategy. Success requires a unique mix of knowledge, experience, skilled people, and technology. That is why turning to a professional organization focused solely on B2B lead generation has never been more important. Growth Orbit provides B2B lead generation outsourcing services that deliver measurable results. Growth Orbit allows you to grow with confidence."
Outsourced B2B Lead Generation to Fill Your Sales Pipeline
Ready to Make Your Sales Team More Productive?
If you plan to grow, B2B lead generation outsourcing makes perfect sense. Simply, let us do the heavy lifting. First, we design a custom lead generation program that works for you. Additionally, we ensure that we align with your existing sales processes. Next, you need experienced B2B sales development reps. We have that covered. Then, you need the most skilled messaging experts. Again, that's us. Of course, daily operations are very important. So, our professional program managers will handle that for you. They leverage sophisticated data management and analytics. And, we use advanced sales enablement technology to deliver outsourced B2B lead generation capabilities at scale. As a result, you achieve lead generation success. 
Our Lead Generation Success is Your Sales Success 
Growth Orbit has years of experience in driving real results. Our clientele come from various industries and provide various solutions. So, we must be very good at what we do. When you partner with us you get a highly experienced team. Our people use an established tech stack. Then we implement proven methodologies in a scalable way. Throughout the program we continuously analyze performance. Along the way, we make adjustments. Finally, we optimize your lead generation program to maximize success.
Growth Orbit is Your Outsourced B2B Lead Generation Partner
Your business depends on revenue growth. So, you need a steady flow of quality sales leads. Predictable results are achieved through a proven framework. Not to mention skilled resources, enabling technology, and expert execution as well. Growth Orbit has developed the formula for delivering outsourced B2B lead generation success. Our formula is based on hundreds of client engagements.
We partner with early stage, fast-growing startups. But some clients are established and looking to supplement their existing lead generation tactics, too.  Also, we serve Fortune 1000 companies looking to super charge their pipelines. In summary, whatever your situation, we will provide the leads. You can stay focused on closing the sales.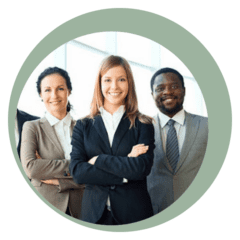 Why Outsource B2B Lead Generation Programs
"Whether you ultimately choose outsourced B2B lead generation,  an in-house team, or a combination of the two, the biggest mistake you can make is overestimating benefits and underestimating costs. Lead generation takes resources, effort, and patience." Today, generating leads is critical to any organization's success. In fact, a lead generation strategy is central to any sales and marketing organization. Yet the challenge of implementing a successful lead generation program is often greatly underestimated. Your success requires much more than writing some compelling content. You cannot just hire someone to "make calls." And, you won't hit lead metrics by sending out countless emails, either. Successful lead generation programs combine and balance all the efforts in concert. It isn't easy.
So, why is B2B lead generation outsourcing the solution? Without a doubt, lead generation has all the hallmarks of a classic outsourcing opportunity. Specifically, it requires specialized expertise. You also need the right technology. Even more important effective program management can't be an afterthought. In short, success is hard to achieve subscale. Lead generation is challenging. It is heavily resource dependent. And it takes time to get right. To sum it up, there's no one-size-fits-all answer. 
Outsourcing lead generation to a skilled and talented team of experts will quickly position you for success. No matter the vertical. No matter your company's size. Outsourcing lead generation is a highly effective strategy. That is to say, it is all but guaranteed to be effective for you.