Lead Generation Solutions
Growth Orbit provides high quality B2B leads for growing organizations, from startups to the Fortune 500. We help our clients clarify their message, generate more sales leads, and focus their sales efforts on those leads most likely to buy.
We uncover sales leads through outbound calling, email campaigns, and digital marketing methods designed to qualify and deliver high quality sales opportunities. We do the work, you get the results.
Why your Salesforce Needs Fewer Leads
Get your Free Copy of Growth Orbit's Insightful White Paper
The pandemic destroyed your sales pipeline, now what?
What may have been a solid and growing pipeline has suddenly faltered thanks to the pandemic.  Your normal playbook is out the window, yet you still need to produce. But how?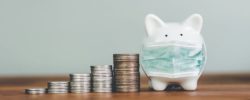 Start Your Growth Acceleration
Get more leads. Close more sales. Grow with confidence.
Call us now at (770) 881-8408 to get started!
Do you struggle with getting enough leads?
In our new pandemic-stricken world, insufficient pipelines are likely your new reality. Growing a business is hard but achieving sales success without face-to-face interaction is even more challenging.  How do you overcome these new challenges and embrace opportunities?  Using technology, knowing your customer's journey, understanding their pain points, and clearly communicating are the keys to achieving predictable results in this new world.  Let us show you the way.
Achieving sales success is hard – creating, refining, and executing on a defined sales strategy that achieves consistent, predictable, and scalable results, even harder. Without a well-defined sales process, aligned with how your customers buy, your organization is dependent upon the tactics and skills of individual salespeople.  This leads to inconsistent and unpredictable results which threaten investor confidence, and ultimately, the business's valuation.  There is a better way. Let us show you how to align how you sell with how your customer buys and achieve predictable results.
SEO, content marketing, inbound, outbound, digital, events? The list is endless, but the truth is, there is no single answer. Concentrating all your efforts on one activity, risks wasting money without getting results. Or if you take on too many activities, you risk burning through your budget too quickly. Ultimately, success requires a tightly integrated combination of activities. Let us show you how to assess, test, and achieve the optimum combination.
Sales Teams Need Support with Lead Generation
Many organizations face the challenge of supplying their sales teams with enough interested people to keep their pipelines full so they can focus their efforts on closing more business.
Misalignment from the Start
%
Different Priorities
Most salespeople say closing deals is their top priority. This prioritization leads to misalignment with Marketing's pipeline-filling lead generation initiatives.
HubSpot survey of 3400+ sales and marketing professionals.
Persistence Pays
%
Keep on Dialing
Nearly all converted leads are reached by the sixth call attempt. Unfortunately, the average salesperson gives up on calling after only 2 attempts to reach a prospect.
Velocify Sales Optimization Study & HubSpot.
Do Whatever Works
%
Multi-touch Approaches Work
Business development reps that use a triple touch have a 28% higher MQL-to-SQL rate than those who only use phone and email.
HubSpot survey of 3400+ sales and marketing professionals.
Our Guide to Lead Generation
How to Run Your Sales Organization Like a Pro
Is explaining what you do complicated?
The question sounds simple enough – "What does your company do?" Why then does a dozen different team members provide an equal number of unique answers, and many will struggle to provide a coherent answer at all. Or worse, you get the "its complicated" response or the half-hour long "tech-talk." We get it. It can be hard to explain your business in simple terms, but it is a necessity. There is a better way. Let us share how our structured approach to message development can create compelling messaging that resonates with your prospects, drives engagement, and accelerates growth.
An overwhelming 86% of the value propositions salespeople present aren't relevant enough to entice the customer to take action, according to a study by CSO Insights. Typically, they are long, irrelevant banter that leaves the customer confused about the offering and why they are speaking with the salesperson in the first place.  We believe there is a better way.  Let us help develop messaging that resonates with your prospects, simplifies the complex, differentiates you from your competition, and positions you for success.
Here's a little secret – no one cares about your product, your company's history, your awards, or your company's greatness. If your messaging is 'you' centered, you are losing sales.  Let us show you how to make your customer the hero of the story, by creating messaging that is about them and their challenges.
Simplify your Message to Be More Relevant
Delivering a clear and consistent message when introducing your company or your solutions requires a sound messaging strategy. Communicating with your audience requires demonstrating value and relevance regarding how your solutions solved their problems.
Buyers do their Homework
%
Online Messaging or Off the RADAR
Nearly 90% of B2B buyers conduct independent research online throughout their buying processes.
Google / Millward Brown Digital survey of 3000 B2B researching and 13 months of clickstream data.
Be Relevant and Useful
%
Buyers Demand Relevant Messaging
Frustration mounts when content is not relevant or useful for customers and their situation. Almost 3 out of 4 people make this claim.
Say it Again. And, again.
%
Repetition Builds Trust
Most potential customers need to hear messaging three to five times before they believe the claims.
Is Explaining your Business too Complicated?
Get your Free Copy of Growth Orbit's Insightful White Paper
Are you losing sales to ''no decision?''
In today's world, many prospects are progressing through the buying process, independent of a particular seller, and performing research on their own. Salespeople too often assume this due diligence occurred and jump right into competitive positioning without understanding the customer's motivations.  This leads to wasted sales efforts and pursuing opportunities that are unlikely to buy at all.  Let us show you how to change this dynamic, improve opportunity qualification, and stop losing to "no decision".
Too often, salespeople are wasting valuable time on prospects that will never close. They fail to validate the underlying "why change" motivation of a buyer and never articulate the implication of inaction.   By successfully learning the buyer's motivations, salespeople can shape and guide the buyer's journey, drive sales engagement, and ultimately improve the seller's effectiveness.  Let us show you how to master this technique and turn a "no decision" into "yes."
At the start of the fiscal year, many organizations begin with a new budget that includes revenue growth assumptions that turn out to be dead in the water by month number two. Too often, this is because their growth plan was unachievable and not grounded in data (yep, that's right… data).  Recurring revenue businesses are especially susceptible to this plight, given the rule of 78.  To make things worse, research shows sales teams spend up to 60% of their time on prospects that are unlikely to ever buy.  Let us show you why this happens, how to identify this issue, and focus your team on the right opportunities.
Focus Sales Efforts on Leads More Likely to Buy
Pushing unqualified leads down your sales funnel results in wasted energy. To improve close rates, sales needs to prioritize and focus efforts on leads whose defined needs and motivations for change align with the solutions you offer that solves their problems.
Poor Performance Far Too Common
%
Not Everyone Hits Quota
Only 60% of sales reps hit their quotas.
CSO Insights. Sales Performance Optimization Study.
Make their Problem your Problem
Working Together Works Better
According to Chorus, successful salespeople are 10x more likely to use collaborative words, such as "us," "we," and "our" and avoid words like, "I" and "me." 
Some Prospects Aren't Buyers
%
Lost Sales are Not Really Leads
At least 67% of lost sales are the result of unqualified prospects being taking through the sales process.
Are you Losing to No Decision?
Get your Free Copy of Growth Orbit's Insightful White Paper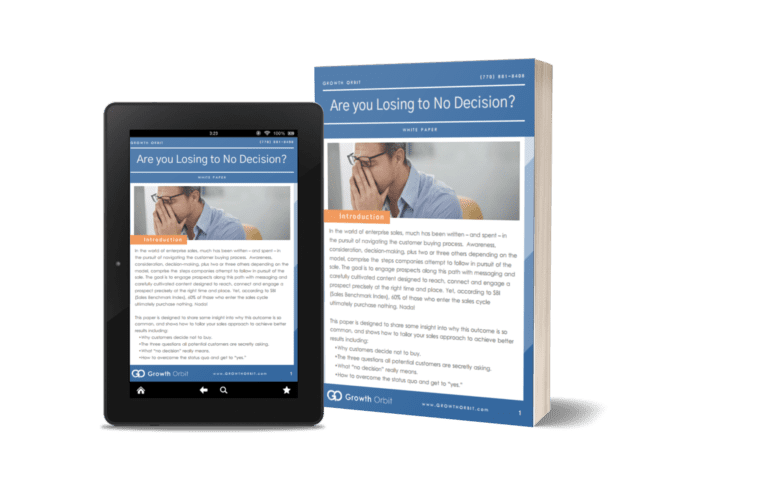 Growth Orbit Insights
Thought leadership, valuable insights and intellectual curiosity are central to our very core.
Your success is why we exist. Let's discuss it.
Let us demonstrate how to change your customer conversations, engage more prospects, drive more consistent results, and accelerate your revenue growth into orbit!