Lead Generation Solutions
Growth Orbit lead generation solutions provide high quality B2B leads for growing organizations, from startups to the Fortune 500. We help our clients clarify their message, get more leads, and focus their sales efforts on those leads most likely to buy.
We uncover sales leads through outbound calling, email campaigns, and digital marketing methods designed to qualify and deliver high quality sales opportunities. We do the lead gen work, you get the sales results.
Driving predictable revenue growth is difficult. Are you ready to grow?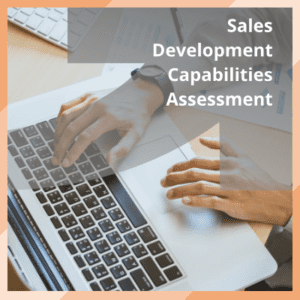 The pandemic destroyed your sales pipeline, now what?
What may have been a solid and growing sales pipeline has suddenly faltered thanks to the pandemic.  Your normal playbook is out the window, yet you still need to produce. But how? Leverage a expert lead generation service provider.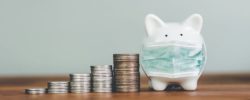 Start Your Growth Acceleration
Get more leads. Close more sales. Grow with confidence.
Call us now at (770) 881-8408 to discuss lead generation solutions.
Do you struggle with getting enough sales leads?
In our new pandemic-stricken world, your opportunity to engage potential customers in a live, face-to-face setting are severely limited. As a result, traditional methods for meeting new contacts and generating new leads are insufficient. Without leads, your sales pipelines are likely drying up quickly. The old ways aren't going to work, so what will?
What about SEO, content marketing, inbound, outbound, digital, events for lead generation? The list is endless, but the truth is, there is no single answer. Concentrating all your efforts on one lead gen activity risks wasting money without getting results. Or if you take on too many activities, you risk burning through your budget too quickly. Ultimately, success requires a tightly integrated combination of activities. Let us show you how to assess, test, and achieve the optimum combination.
Your Sales Teams Need Support with Effective Lead Generation Solutions
Many organizations face the challenge of supplying their sales teams with enough interested people to keep their pipelines full so they can focus their efforts on closing more business.
Misalignment from the Start
Most salespeople say closing deals is their top priority. This prioritization leads to misalignment with Marketing's pipeline-filling lead generation initiatives.
HubSpot survey of 3400+ sales and marketing professionals.
Persistence Pays
Nearly all converted leads are reached by the sixth call attempt. Unfortunately, the average salesperson gives up on calling after only 2 attempts to reach a prospect.
Velocify Sales Optimization Study & HubSpot.
Do Whatever Works
%
Multi-touch Approaches Work
Business development reps that use a triple touch approach for lead generation have a 28% higher MQL-to-SQL rate than those who only use phone and email.
HubSpot survey of 3400+ sales and marketing professionals.
Our Guide to Lead Generation
How to Run Your Sales Organization Like a Pro
Is explaining what you do complicated?
When asked by a prospective client "so, what do you do?" are your salespeople equipped to provide a simple, meaningful answer, or do they begin their response by saying "it's complicated?" It's a simple question and it can be difficult to answer, but putting together a consistent, coherent explanation is a necessity. To be sure your sales team is able to spark interest, drive engagement, and advance the discussion you need a defined messaging strategy.
We have a passion statement, an elevator pitch, and a value proposition, shouldn't that be enough? Possibly, but a recent CSO Insights study found that 86% of value propositions aren't relevant and do not entice prospects to take action. Proper messaging is all about demonstrating an understanding of their problems, an introduction into how you solve those problems, and an invitation to continue the conversation. Oh, and here's a little secret – no one cares about your product, your company's history, your awards, or your company's greatness. If your messaging is 'you' centered, your lead gen efforts won't succeed and you will lose sales.  Let us show you how to make your customer the hero of the story, by creating an effective messaging strategy.
Simplify your Message to Be More Relevant
Delivering a clear and consistent message when introducing your company or your solutions requires a sound messaging strategy. Communicating with your audience requires demonstrating value and relevance regarding how your solutions solved their problems.
Buyers do their Homework
%
Online Messaging or Off the RADAR
Nearly 90% of B2B buyers conduct independent research online throughout their buying processes.
Google / Millward Brown Digital survey of 3000 B2B researching and 13 months of clickstream data.
Be Relevant and Useful
%
Buyers Demand Relevant Messaging
Frustration mounts when content is not relevant or useful for customers and their situation. Almost 3 out of 4 people make this claim.
MarketingBlender
Say it Again. And, again.
Most potential customers need to hear messaging three to five times before they believe the claims.
Edelman Trust Barometer
Why Your Messaging is All Wrong
Get your Free Copy of Growth Orbit's Insightful White Paper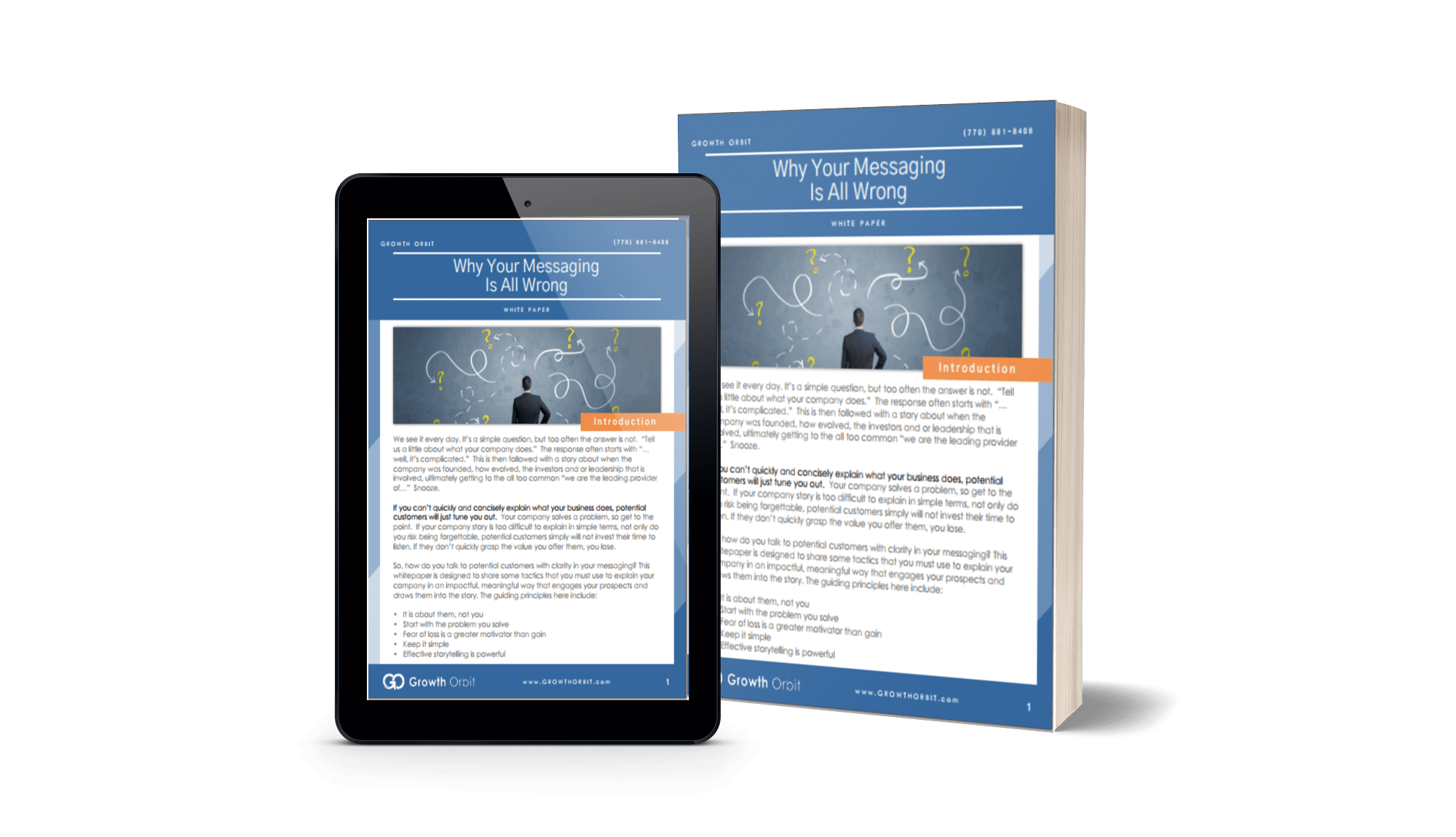 Are you losing sales to ''no decision?''
It's possible that you have never thought about it, but to what do you attribute sales leads that work themselves through the entire sales process to, in the end, decide to do nothing at all? In today's world, many prospects are progressing through a buying decision process by performing their own research and coming to their own conclusions without the guide of a salesperson. They may engage with your sales rep at any point in their unique journey. Unfortunately, salespeople often jump right into competitive positioning and price negotiations without knowing the prospects pains, needs, and motivations. This leads to wasting a lot of effort on prospects that they have very little chance of closing.
Focus Sales Efforts on Leads More Likely to Buy
Pushing unqualified leads down your sales funnel results in wasted energy. To improve close rates, sales needs to prioritize and focus efforts on leads whose defined needs and motivations for change align with the solutions you offer that solves their problems.
Poor Performance Far Too Common
Only 60% of sales reps hit their quotas.
CSO Insights. Sales Performance Optimization Study.
Make their Problem your Problem
Working Together Works Better
According to Chorus, successful salespeople are 10x more likely to use collaborative words, such as "us," "we," and "our" and avoid words like, "I" and "me." 
Some Prospects Aren't Buyers
%
Lost Sales are Not Really Leads
At least 67% of lost sales are the result of unqualified prospects being taken through the sales process.
SPOTIO, April 2020.
Are you Losing to No Decision?
Get your Free Copy of Growth Orbit's Insightful White Paper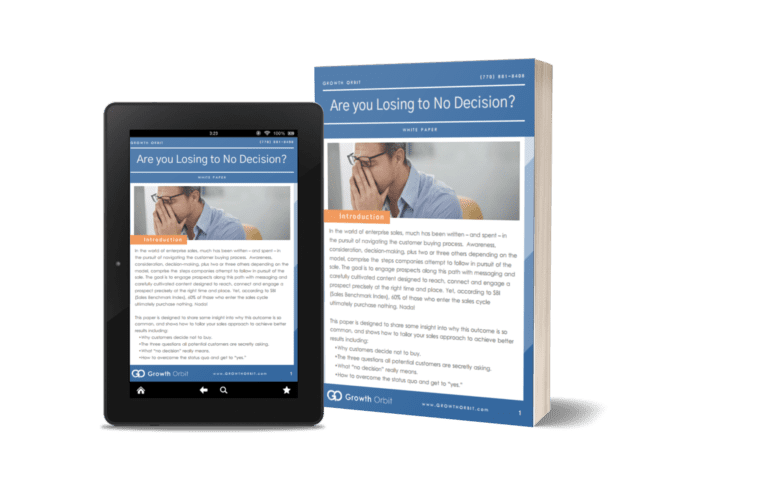 Lead Generation Isn't Easy
 It's OK to rely on outside resources.
These days, there isn't a task, process, or function that can't be outsourced to a specialist. Outsourcing is nothing new. It can allow your business to stay focused on core activities. It helps organizations gain efficiencies, improve effectiveness, and ultimately scale operations and grow. Some outsourced activities help you save money. Some outsourcing services help you make money.
Closely behind Accounting and Legal solutions, Digital Marketing to Generate Leads ranks as the 3rd most commonly outsourced service for B2B organizations. By choosing to partner with experts, your company can reap great returns on your sales and marketing investment. Our lead generation solutions are backed by decades worth of real-world experience and powered by top-notch, dedicated professionals.
So why choose us? Growth Orbit takes pride in delivering lead generation solutions that measure success based on quality, not quantity. The lead generation services we provide begin with an in-depth understanding of your audience, keen focus on your total addressable market, and a highly customized playbook based on loads of research and your direct input. Our experienced, US-based sales development reps (SDRs) work closely with your sales team to ensure proper hand-off of each and every lead. Our clients enjoy a 3X return on investment in year one, which builds to a 7X return by year three. So, no, lead generation isn't easy. However, it is definitely easier when you can rely on the experts.
Growth Orbit Insights
Thought leadership, valuable insights and intellectual curiosity are central to our very core.
Your success is why we exist. Let's discuss it.
Let us demonstrate how to change your customer conversations, engage more prospects, drive more consistent results, and accelerate your revenue growth into orbit!