Sales Performance Solutions
At Growth Orbit we help our clients align their sales processes with how their customers buy, improve their ability to accurately forecast their sales, and establish a solid, predictable growth revenue formula to achieve their growth plans.
We conduct critical research on your total addressable market and provide guidance on adjustments to make to your sales strategy. We do the work, you get the results.
Driving predictable revenue growth is difficult. Are you ready to grow?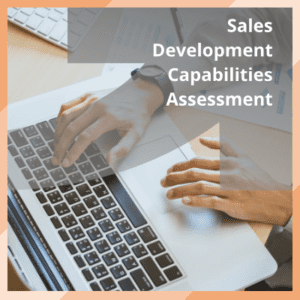 Start Your Growth Acceleration
Get more leads. Close more sales. Grow with confidence. Call us now at (770) 881-8408 to get started!
Do you struggle with closing enough sales?
Traditionally, organizations have used sales performance measurements to provide continual feedback, coaching, and development. An organization's sales performance management requires a long-term view toward skills and capability development, balanced with tactics experimentation, technology and tools. The sales organization should focus on the upper boundaries of performance instead of measuring against the minimum.  Success must be continuously celebrated, under-performance quickly addressed, and the bar continually raised.
Ultimately, your sales team's performance hinges on the people, the processes in place, and a culture that guides and motivates them. Many sales organizations have talented, experienced people who've demonstrated the ability to achieve revenue goals during their careers. So, the people aren't typically the issue when performance isn't as expected. Measuring effectiveness requires a defined process to measure against. The most successful processes are defined in alignment with how customers buy, not how sales people prefer to sell.
Optimize Sales Team Performance with Defined Processes
While making plans to grow the business, many organizations are held back by the limitations of their sales team due to inconsistent, unreliable methods, and underperforming members of the team.
Get Referrals
%
Sure. If They Ask.
84% of B2B decision makers begin their buying process with a referral. Additionally, 91% of customers say they would provide referrals, but only 11% of salespeople ask for one.
Sales Benchmark Index & Dale Carnegie.
Be Prepared
%
If you Fail to Prepare, Prepare to Fail.
B2B decision makers think that sales reps are unprepared.
Be Engaged
%
The Mistake of Indifference.
Almost two-thirds of B2B deals are lost because of indifference, not because of mistakes.
How to Run Your Sales Organization Like a Pro
Our Guide to Lead Generation
Are you struggling to accurately forecast sales?
The ground is shifting in the way buyers behave. Your customer's buying journey is more complex than ever before, with an ever-increasing number of participants.  This is new and challenging territory for even seasoned salespeople.  Sales organizations must properly prepare, retool, and align their sales efforts with this new buyer driven world.  Knowing what really drives your customers to act, the bridges they must cross, and aligning your efforts to support their journey are critical to success.
Knowing your customers wants, needs, and motivations before they being the sales-related stages in your defined sales process will provide you with more accurate forecasts. Armed with a more in-depth knowledge will help you identify true opportunities and the likelihood of a eventual sales, thereby improving your forecasting accuracy.
Know your Customer Better to Get More Accurate Forecasts
Your customer's buying journey has become more complex with an ever-increasing number of participants. Modern forecasting requires processes to identify buyer movements through every stage from first touch to closed-won in your pipeline.
Data is Power
%
Powerful Tools, Poor Data
Nearly all sales teams use a CRM solution, however, salespeople lack the discipline to enter important data citing that doing so takes time away from selling.
Realistic Targets
%
Slightly Off Target
Approximately 4 out of 5 of sales organizations miss forecasts by more than 10%.
Securing the Sale
%
Not a Done Deal
More than half of the deals forecast by sales reps never close.
CSO Insights 2018 Sales Operations Optimization Study
Are you Struggling to Accurately Forecast Sales?
Get your Free Copy of Growth Orbit's Insightful White Paper
Is your revenue growth plan out of reach?
Sales success is better achieved with a plan that is well-articulated, provides direction, defines the tactics, and easily understood by all. In addition to a great plan, success is dependent on it being effectively and passionately deployed. Without it, success is left to chance.
If you want consistent, predictable results as you pursue your revenue growth plans you'll need to establish a strategic framework and culture that encourages and incentivizes positive results rather than "hard work" and a flurry of activity.
Use a Formula for Predictable, Sustainable Revenue Growth
To sustain growth your business requires a strategy built on a solid, scalable, repeatable plan based on logic and with clearly defined, measurable outcomes.
Work Together
%
Pulling the Same Rope
Companies that align sales and marketing processes can become up to 67% better at closing deals.
Teamwork
%
Grow Together
Organizations with sales and marketing alignment accomplish a 20% annual growth rate.
Offer the Solution
%
They Won't Buy if you Don't Ask
Astonishingly, more than 3 out of 5 sales interactions end without the sales rep asking for the sale.
Is your Growth Plan Out of Reach?
Get your Free Copy of Growth Orbit's Insightful White Paper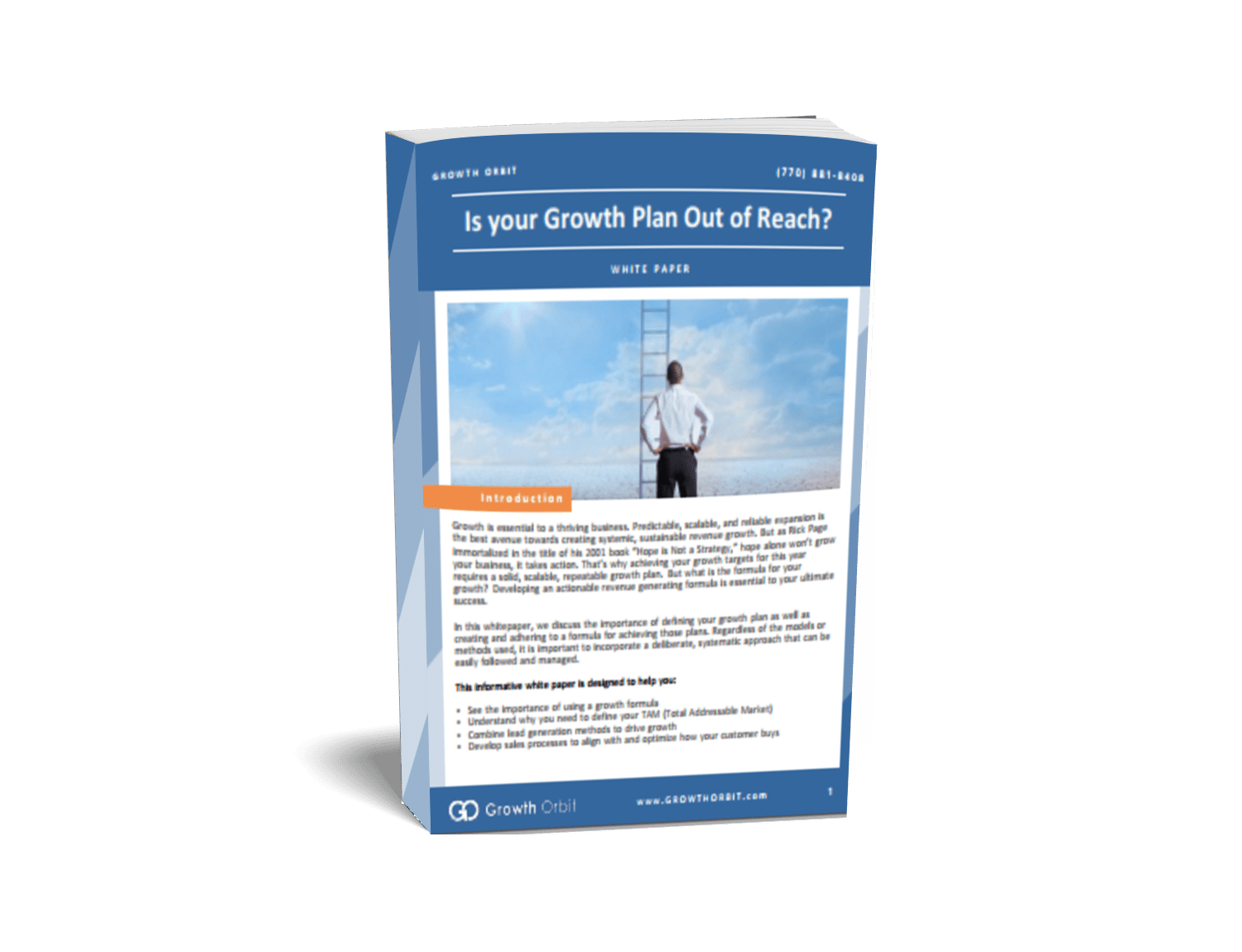 Growth Orbit Insights
Thought leadership, valuable insights and intellectual curiosity are central to our very core.
Your success is why we exist. Let's discuss it.
Let us demonstrate how to change your customer conversations, engage more prospects, drive more consistent results, and accelerate your revenue growth into orbit!