Why a Sales Technology Strategy is Key to Selling Successfully
As technology continues to reshape the behaviors of buyers, sales organizations must implement the a sales technology strategy and modern techniques to have a better chance of being more successful.
Sales Technology Helps Salespeople Connect, Engage, and Solve Problems for Prospective Buyers
The process of prospecting and generating qualified leads is hard! It has always been challenging work. In the new world of digital selling and multi-channel engagement, where speed and relevance matter, it can be utter chaos. Today's salesperson is communicating more often and across more channels than ever before. Trying to stay on top of all the daily activities alone keeps sellers from doing what they do best: engaging prospects and solving problems. 
So, Why Do I Need a Lead Generation Technology Strategy When I Have CRM?
The dark little secret is your CRM is not well suited to support the highly specialized sales activity of B2B lead generation. The big CRM tools tend to over-promise, under-deliver, are counterintuitive, and are designed to support a wide array of functions. CRM systems tend to make sellers' lives harder, requiring them to spend too much of their time navigating through a poorly implemented CRM system, researching contacts, and maintaining manual workarounds (spreadsheet tracking and reporting anyone).  
Improve Your CRMs Efficacy with Purpose Built Sales Engagement Tools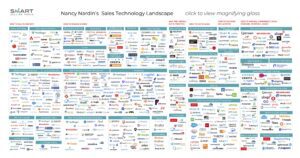 Effective lead generation programs require a structured process that is managed effectively. Given the weakness of most CRM systems, an entire industry has emerged of specialized tools designed to manage the necessary information workflow and to facilitate "sales engagement" efforts. Most of these tools integrate with your CRM system and are purpose built to manage a multi-touch, multi-phase, and multi-channel prospecting cadence.  
Relying on your CRM system as a platform to support a modern-day lead generation program without a sales technology strategy is a recipe for failure. Instead, implement a specialized "Sales Engagement Platform" and your sellers will be more productive, ramp faster, and provide a better prospect experience. Alternatively, turn to an outsourced lead generation solution that already has the necessary tech-stack and accelerate your path to success. Either way, it is organizations that utilize a modern digital selling platform that will find success and grow their revenue predictably.