Quick Tip: What critical skills are required to be a successful SDR/BDR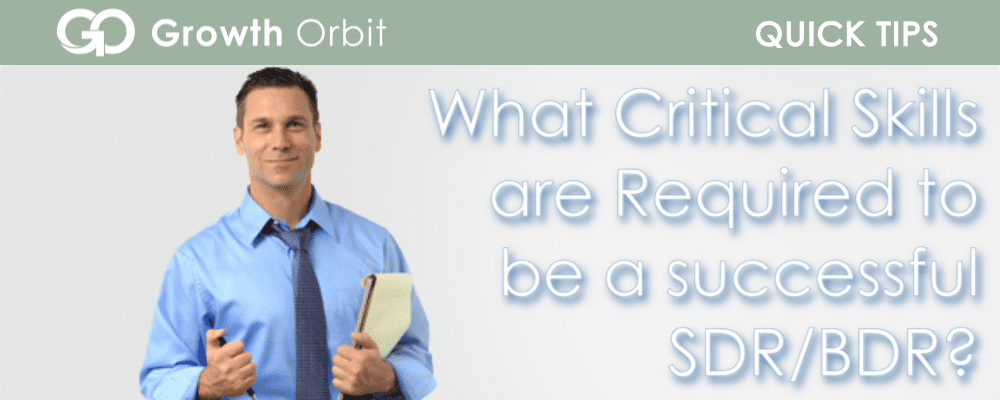 So, you want to be a Sales development Rep (SDR)?  SDRs play a critical role in generating leads and building relationships with potential customers. Here are some key skills that are important for SDRs to have:
1. Communication skills: SDRs should have strong communication skills, including the ability to effectively communicate the value of a product or service to potential customers.
2. Persuasion skills: SDRs should be able to persuade potential customers to take the next step in the sales process.
3. Time management skills: SDRs should be able to manage their time effectively and prioritize tasks in order to maximize productivity.
4. Adaptability: SDRs should be able to adapt to different sales situations and be able to think on their feet.
5. Listening skills: SDRs should have good listening skills and be able to understand the needs and concerns of potential customers.
6. Research skills: SDRs should be able to research potential customers and understand their business in order to tailor their sales approach.
7. Tenacity: SDRs should be tenacious and be able to handle rejection and continue working towards their goals.
Dedication and self-development are crucial to being a successful sales development representative (SDR). As an SDR, it is important to be committed to learning about the products and services being sold, as well as the industry and market in which they operate. But it is equally important to develop the key selling skills required to be effective. This requires a willingness to continuously learn and adapt to changes in the marketplace. By staying dedicated and constantly developing oneself, an SDR can build a strong foundation for success in the competitive field of sales.
To learn more and about this and other selling best practices, contact Growth Orbit today. Call (770) 881-8408 or contact us online.