Top Challenges in Healthcare Lead Generation
B2B lead generation for the healthcare industry is challenging. But for companies and Sales Development Representatives [SDRs] with patience, grit, and knowledge, it may be the most lucrative and opportunistic vertical in 2022. This article covers the top challenges in healthcare lead generation.
Healthcare Lead Generation Challenge #1 – A Different Purpose
Although profitability is essential to keep the doors open, healthcare's over-arching goal is to ensure the health and safety of its patients and employees. Typically, B2B organizations are driven by strategies to increase revenue and provide maximum profit for their stakeholders. However, healthcare companies are guided by a different purpose. Their mission is to serve the greater good. Strategies are focused on patient care and the experiences associated with it. 
Yes, profits still matter, but healthcare providers look for solutions which help drive revenue without sacrificing care quality. Technologies which improve productivity, performance, and scheduling are just a few examples of solutions leaders consider. Also, solutions that help diagnostics and care such as mobile medical monitoring devices are hot ticket items. 
Knowing this difference in strategic focus, healthcare lead generation efforts need to account for a more complex sale and a longer sales cycle. Initial SDR conversations, typically start where the pain lies, at the end-user. Decisions themselves, however, usually involve a committee, and the end-user may not even participate. As a result, an SDR's initial target persona may be a strong influencer, but the product needs to be resold up the ladder. This process elongates sales cycles and makes defining the target personas complex.
Healthcare Lead Generation Challenge #2 – Slower Technology Adoption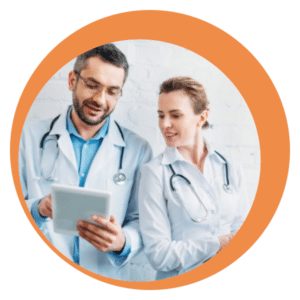 Another of the top challenges in healthcare lead generation is the general lack of urgency to adopt new technologies. Despite the great advantages that technology offers to healthcare, the industry as a whole is lagging behind. During the pandemic most industries accelerated their path to digitalization. This tech adoption acceleration includes upgrading their technologies, moving to the cloud, and improving digital experiences. Healthcare providers have been a tad bit busy to say the least.  
There are other factors besides resource challenges and time constraints that cause a delay in adoption. Typically, the healthcare industry is risk averse. So, before adopting new technologies customers are careful to fully understand the ramifications of implementation, onboarding, and training. Additionally, they are sensitive to cybersecurity issues and risks. Again, this leads to more discussions and a longer sales cycle. 
Healthcare Lead Generation Challenge #3 – Resources Stretched Thin
With the fallout from Covid including staffing shortages, new protocols, and playing catch-up with elective surgeries, most practices and hospitals have been extraordinarily busy. As a result, it has become increasingly difficult to get time on a prospect's calendar, especially if they are an actual provider. However, even ancillary roles like IT and Operations, are extremely busy.  As a result, time is a valuable commodity. Highly trained SDRs must be able to tap into existing pain points to make the cut for someone's valuable time, and often, calls must be rescheduled. Flexibility and patience are key virtues when selling into this market.
Healthcare Lead Generation Challenge #4 - Move to Value-Based Care
Escalating costs and inconsistent quality prompted the move to 'value-based' or 'patient-centered' healthcare. Several years have passed since this initial movement, yet only 36% of payments are value-based according to The Health Care Payment Learning and Action Network, or HCPLAN. In other words, there is still a lot of room for growth.   
The value-based model incentivizes providers to focus on the quality of services rendered, as opposed to the quantity. Providers, including both hospitals and physician, are compensated based upon patient health outcomes. The goal is to standardize processes through best practices. To accomplish this task, analyzing data to determine which processes work and which don't is crucial. HealthTech vendors that help healthcare organizations achieve these goals are positioned for success in 2022.
Healthcare Lead Generation Challenge #5 - Government Regulations
One of the top challenges in healthcare lead generation that is often overlooked is the industry's regulatory constraints. Besides value-based care and Covid, healthcare providers must keep abreast of other new regulations and trends in the industry. One of the newest, is the No Surprises Act. Effective January 1, 2022, this federal regulation protects consumers from surprise medical bills and requires insurers cover most out-of-network claims. Other new regulations include the Information Blocking Regulation, Electronic Prescribing of Controlled Substances [EPCS], and The Affordable Care Act.
Also, providers must keep a watchful eye on telehealth. The pandemic forced a surge in telehealth care. But today, providers are trying to determine what type of visits are most appropriate for these services and likely insurance coverage mandates will follow suit. 
The bottom line is providers are inundated with much more than patient care. As a result, there is an abundance of opportunity for companies who can ensure compliance and keep their clients up to date with changing regulations. SaaS technology solutions which include upgrades are perfect for these types of fluid changes.
Healthcare Lead Generation Challenge #6 - Healthcare Industry Terminology
Healthcare industry terminology can be complex and frankly, difficult to pronounce. Arguably, healthcare has more acronyms than any other business sector. SDRs not only must understand what these acronyms stand for but must possess a deeper understanding of their meaning. Without this knowledge it will be difficult to have a value-added conversation with healthcare professionals at all levels.
Healthcare Lead Generation Challenge #7 – Market Consolidation
2021 was an eventful year for mergers and acquisitions [M&A] in the healthcare industry. Besides hospitals, every other sector saw growth in both deal value and volume. According to PwC, "deal volume was up 57 percent year over year and deal value was up 227 percent"; a recording breaking year. Experts believe that 2022 could be even bigger as competitive pressures loom. 
All this M&A activity presents vendors with another of the top challenges in healthcare lead generation. First, when going through an acquisition, most companies put new projects on hold. Even if your product is already in the door, a new company may require beginning the sales process all over again. Also, sometimes the acquiring company already owns the solution or has invested deeply with a competitor. M&A can mean changing decision-makers, influencers, and processes. So, in other words, the buying journey may be starting anew, elongating already exceptionally long sales cycles.
Why Partner with Growth Orbit for Healthcare Sales Leads?
We understand the top challenges in healthcare lead generation. Our team possesses a deep understanding of healthcare, its technologies, and its regulations. We know that patients come first, and time is a precious commodity. We also know that increasingly healthcare providers are moving towards outcome-based care, which requires a comprehensive reexamination of all aspects of the Services they provide. Utilizing our proven methodologies, data, technology, and experience, we know how to generate high quality leads in this unique arena. 
As the landscape changes, healthcare is poised to rapidly evolve, and companies must be ready. Let our dedicated team of experts design a lead generation program specifically for your needs. You know your business. We know lead generation. Let's develop the right program together and help you accelerate your growth.
Growth Orbit is a full-service growth acceleration firm, focused on driving measurable value through growth initiatives that work. We excel at combining sound growth strategy with proven sales methodologies, supported by effective technology. We only consider ourselves successful when we deliver accelerated, measurable growth for our clients.
From developing smart insight driven sales messaging, to filling your funnel with qualified leads, we've built our foundation on meeting clients where they are and helping them achieve new levels of growth — what we call reaching Growth Orbit!