The Ultimate Guide to Crushing Your 2021 Revenue Plan
Time to put 2020 behind us and get on with your 2021 revenue plan. Growth is essential to a thriving business and 2020 delivered more challenges than most years. But predictable, scalable, and reliable revenue growth is still obtainable even in the most challenging of times. But as we all plan for 2021 we need more than hope.  Hope alone won't grow your business. Achieving your growth targets for next year requires a solid, scalable, repeatable growth plan.  But what is the formula for your growth?  Developing an actionable revenue generating formula is essential to your ultimate success.
Be deliberate, systematic and easily understood 
Regardless of the approach or methods you use to plan for 2021, it is important to incorporate a deliberate, systematic approach that can be easily followed and managed.
Five keys to crushing your 2021 revenue plan:
The importance of developing a growth formula
Why defining your Total Addressable Market or TAM is essential
The secrets to effective sales messaging
Creating a winning strategy for lead generation
Align your sales process and maximize your success
Is your 2021 revenue plan doomed to fail?
So many organizations begin their fiscal year with a new budget which includes revenue growth assumptions that turn out to be dead in the water within a couple months. Too often this is because their growth targets were built without a solid plan and thus quickly became unattainable.
Recurring revenue businesses are especially susceptible to this, given the rule of 78. This quick mathematical formula can be useful for calculating a full calendar year's revenue, but, under this rule, missing your sales number in January can have a devastating impact for the rest of the year. 
Create a growth formula that works
Sales growth and sales development should be formulaic. It should be as easy as saying, "this combination of resources at this cost delivers this result." But most organizations don't approach planning in this way. Here at Growth Orbit, we see a wide assortment of other approaches, including:
1. Growth forecasted at 20% over the previous year with no specific details of how that growth is going to take place
2. A discount of the total quotas assigned to all reps. 10 reps x $1 million in quota x 65% = $6.5 million revenue growth plan.
3. We need to sell an additional $10 million this year so let's hire x number of reps.
No matter what method, too often there is little connection between marketing's budget and objectives and sale's revenue goals.  We believe that any growth plan must be an intertwined effort resulting from sales and marketing collaboration.
What these approaches, and many others, have in common is the lack of methodical planning and logic. Why do organizations waste resources creating senseless growth plans, essentially hobbling themselves at the starting gate? Oftentimes, it's as simple as lacking a proven growth formula, where companies aren't sure how to confidently create a solid plan based on true avenues for growth to achieve their targets.
In its simplest form, a revenue growth formula should work something like this:
x Dollars invested in y marketing plus z sales activities = desired revenue growth
The formula looks simple, but that simplicity glosses over important marketing and sales related questions. What marketing activities should you focus on and at what level? There are so many to choose from including; search engine optimization, content marketing, Google AdWords, inbound to outbound marketing, Account Based Marketing (ABM), and beyond. It's enough to make your head spin.
Then there are also the sales questions.  What sales investments should you make?  Inside sales, outside sales, channel development, resellers?  Again, these questions create more challenging decisions.
And finally, how do you link the investments in marketing to the outcomes they create for sales investments that lead to customer wins and revenue?  All of these activities are an interconnected continuum and must be viewed and managed as one.
A holistic approach to the sales and marketing continuum
A complete sales and marketing continuum looks something like this: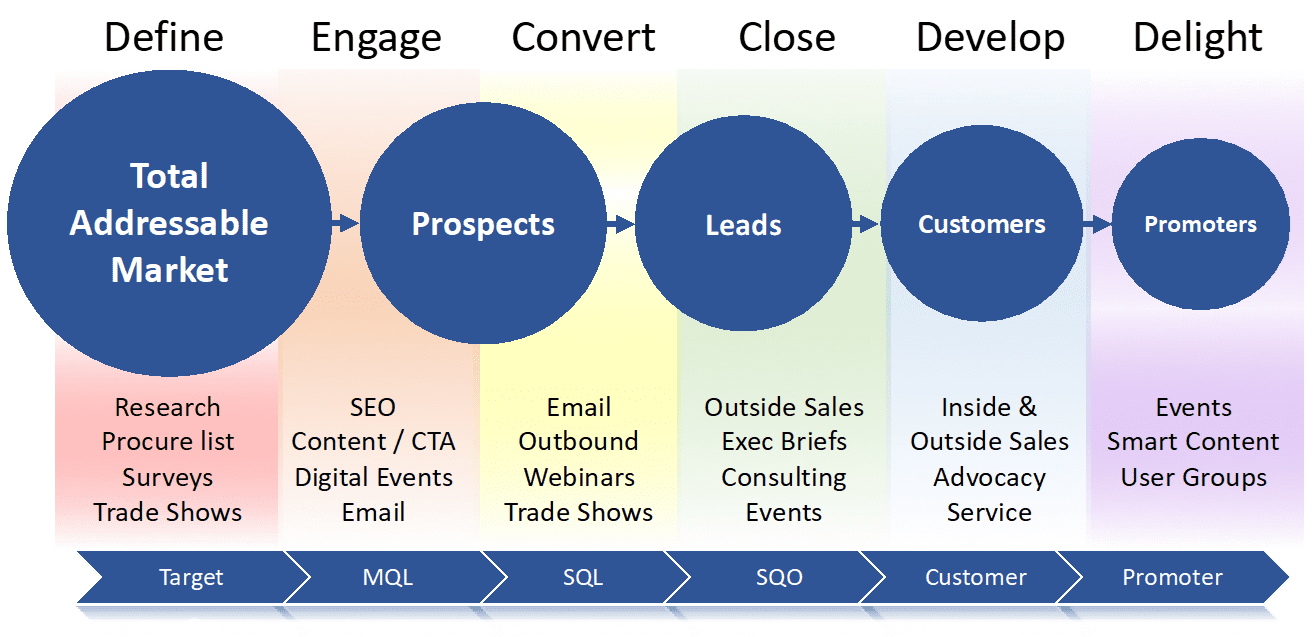 In a perfect world, your investment in each phase shown above should produce a clearly measurable outcome to fuel the next phase.  That outcome must be measured, and the process continually refined to achieve optimum performance. Measurement, analysis, and A/B testing are all critical to finding the most effective blend for your individual work. Once you understand and optimize your equation of dollars in vs. outcomes out, it's time to accelerate growth.
How Total Available Market (TAM) plays into your overall growth plan
Growing your business requires a thoughtfully and collaboratively developed plan. Clearly defining and assessing your Total Addressable Market (TAM) is an essential first step in this planning process. Your TAM is a definable base for your ideal target market and growth strategy. Remember: predictable revenue is achieved from predictable, high-quality lead generation and predictable sales conversion rates.
Your TAM development needs to be specific and detailed. This gives you the context for knowing the profile of the companies to target to achieve your growth objectives. Something like "retail manufacturers over $100 million in annual revenue" is a good starting point, but that alone won't provide any actionable companies for you to work with. Drill down a little deeper to specify how many companies fit that profile, what companies they are, which titles within those companies you need to target, how many of those titles there are, and so on. This way, you create a list of your targeted companies and the appropriate contacts within those companies.
Success is in the details
Don't let the thought of this process overwhelm you. You don't need to build out detailed data for every company, but you need to start with significant enough numbers to fuel your marketing activities.
A good starting place is 20% of your total addressable market. It's possible to build a highly targeted, high-performing prospect list using up-to-date location, vertical, and titles selections that can improve your sales and marketing campaign performance. Deeper dive prospect lists like this can empower measurable marketing ROI and boost future growth.
Develop a strong messaging strategy
It's important to develop a clear and effective messaging strategy along with your TAM.  These two components are inextricably linked. When defining your TAM, you are decoding the profile of companies that are a good fit for your product or service who are likely to have a problem or pain that your company uniquely solves.  As you define your TAM in more detail, you are identifying the specific roles within those companies that likely own this pain or problem. The people that you focus on are the ultimate decision makers or at least decision influencers.  You need an effective messaging strategy to engage, educate, and ultimately convince these pinpointed decision makers to change the way they do business.  We call this the "Why Change?" decision.
3 keys to effective messaging
An effective messaging strategy, at a minimum, should fulfill these three criteria:
1. It must be clear. Clarity wins. Don't let your hard work be ignored because your messaging is too complicated. A message that takes too much effort to understand will be dismissed. Avoid industry jargon, acronyms, and buzzwords. Keep it simple, short, and easy to understand.
2. Focus on the pain you solve.  Studies tell us people will put twice the effort in to avoid a loss than to achieve an equal gain. This applies to business decisions as well. Clearly articulate the pain or problem you solve and the implications the potential customer risks facing if this problem is not addressed.
3. Paint a visual image. Describe what their world will be like once your solution is implemented and the pain is eliminated because they are operating in a new and more productive world. Make this clear to them. The more visual and aspirational this image is, the better. Let them imagine how easy their life and how successful their work will be once their problems are addressed.
How to structure your 2021 Sales & Marketing plan for success
Your TAM represents the combined revenues (or unit sales) of all the companies in your specific market. Once the TAM research and messaging work is complete, it is time to implement a structured sales and marketing approach.
One effective method to use for this stage is Account Based Marketing (ABM).  When the ABM concept was first born, it was generally practiced on a short list of select accounts, like the Fortune 100. But through the use of modern technology, there's no reason an organization can't use a highly targeted ABM approach with tens of thousands of companies and personas. In this way Account-based marketing (ABM) is an alternative B2B strategy that concentrates sales and marketing resources on a clearly defined set of target accounts within a market and employs personalized campaigns designed to resonate with each account.
With a solid understanding of your TAM, an actionable prospect list, an effective messaging strategy, and critical market insights, you can engage, educate, and ultimately generate leads. But how?
The world is changing, and there is a lot of information out there declaring cold calling is dead and content marketing is king, or proclaiming "it's an inbound world!" While we can't deny that the rise of the internet and social media has changed the way buyers find and research vendors and solutions, it's a mistake to think that these approaches can stand alone.
Inbound strategies and content marketing are powerful tools, but they take tremendous effort, time, and expertise. There are entire books written on these topics alone. While you're struggling to establish "domain authority" on the web, there's nothing stopping you from picking up the phone and calling prospective clients, just like the old days.
Outbound lead generation plays a critical role in developing a successful 2021 revenue plan optimized for growth.  Once you've clearly identified your TAM, gathered contact data, and planned an effective messaging strategy, you are ready to engage with prospective clients directly.
Outbound lead generation is a critical component to your success
An effective outbound lead generation program typically has two fundamental components: email marketing and outbound tele-prospecting or sales development. Both of these programs should be run at the same time in an integrated way. Your email campaign can be used to test messaging, educate, and develop prospective clients. The tele-prospecting or sales development efforts can be used to directly engage with prospective clients, gauge message effectiveness, identify actionable market intelligence, and generate qualified leads.
The importance of a well-structured outbound lead generation program that integrates the work of both marketing and sales departments cannot be overstated.  As with all effective sales and marketing efforts, outbound lead generation must be approached as a structured process that is constantly monitored and analyzed.  The goal is to use lessons learned to continually evaluate the companies, personas, and messaging you are deploying.  Remember that it isn't just the leads that you are after.  The market intelligence you gather is a critical output of your lead generation program.  Information gathered may have both tactical and strategic insights for Marketing, Sales, Product Fulfillment, Product Development and Design, and Pricing personnel. Designing the appropriate feedback loop so that your market intelligence get into the right hands will pay dividends to your entire organization.
Bringing it all together with effective sales execution
Sales execution is the final step in our revenue growth formula. An effective strategy is all about predictably converting leads into paying customers. As with every function along the continuum of the revenue growth formula, it must be approached as a process that can be structured, measured, and supported with proper tools. At a minimum an effective sales effort must include the following:
1. A structured sales process that aligns with the target customer's buying process.
2. Sales enablement tools and resources that support each phase of the buyer's journey.
3. A well-established sales culture that sets realistic goals, measures performance, addresses performance challenges in a timely honest manner, and celebrates and rewards success.
4. A commitment to recruiting, developing and maintaining high-performing talent.
In Summary, Crushing 2021 Revenue Growth Plans is Within Your Control
Achieving predictable revenue growth requires a thoughtfully developed, scalable revenue growth formula.
Creating that formula starts with clearly and specifically defining your Total Addressable Market (TAM) and implementing an effective messaging strategy.
That effective messaging strategy must be clear, focus on pain points, and paint a visual image for potential customers that details how their lives will be made better through the product or service you alone provide.
Implementing an Account Based Marketing (ABM) strategy to engage, educate, and generate leads will up the game in terms of marketing efficiency and performance.
Outbound lead generation should include both email marketing and tele-prospecting that takes advantage of the market intelligence you gather
The final component is a well-defined sales process that properly aligns with how your customer buys.
Once these individual components are developed, optimized and integrated your organization will achieve a predictable, scalable revenue growth formula that leads to true growth.
Success in 2021 depends on well-planned, thoughtful revenue growth formula.  An effective growth formula is more than the sum of its individual parts. It may seem like a daunting task, but by carefully crafting and executing the right strategies and integrating them together, you can grow your business with confidence and crush your 2021 revenue plan.
Growth Orbit is a full-service growth acceleration firm, focused on driving measurable value through lead generation and sales performance solutions that work. We excel at combining sound growth strategy with proven sales methodologies, supported by effective technology. We only consider ourselves successful when we deliver accelerated, measurable growth for our clients.
From developing smart insight driven sales messaging, to filling your funnel with qualified leads, we've built our foundation on meeting clients where they are and helping them achieve new levels of growth — what we call reaching Growth Orbit!